El restaurante de Massimo Bottura (Osteria Francescana, Módena, italia) ha vuelto a conseguir el título de mejor restaurante del mundo, pues ya lo ostentó en 2016 (en 2017, fue segundo). El Celler de Can Roca ha subido una posición respecto al año pasado y alcanza el #2, y Mirazur (Menton, Francia) ha entrado en el podio por primera vez en su historia (fue 4º el año pasado). La cocina mediterránea se reivindica. El anterior número 1, Eleven Madison Park (New York, EEUU), ha bajado tres posiciones, aunque la gran sorpresa ibérica de la noche ha sido la enorme subida de Disfrutar (Barcelona), que ha ganado el título de Highest New Entry Award al pasar del #55 al #18 actual, subiendo 37 puestos.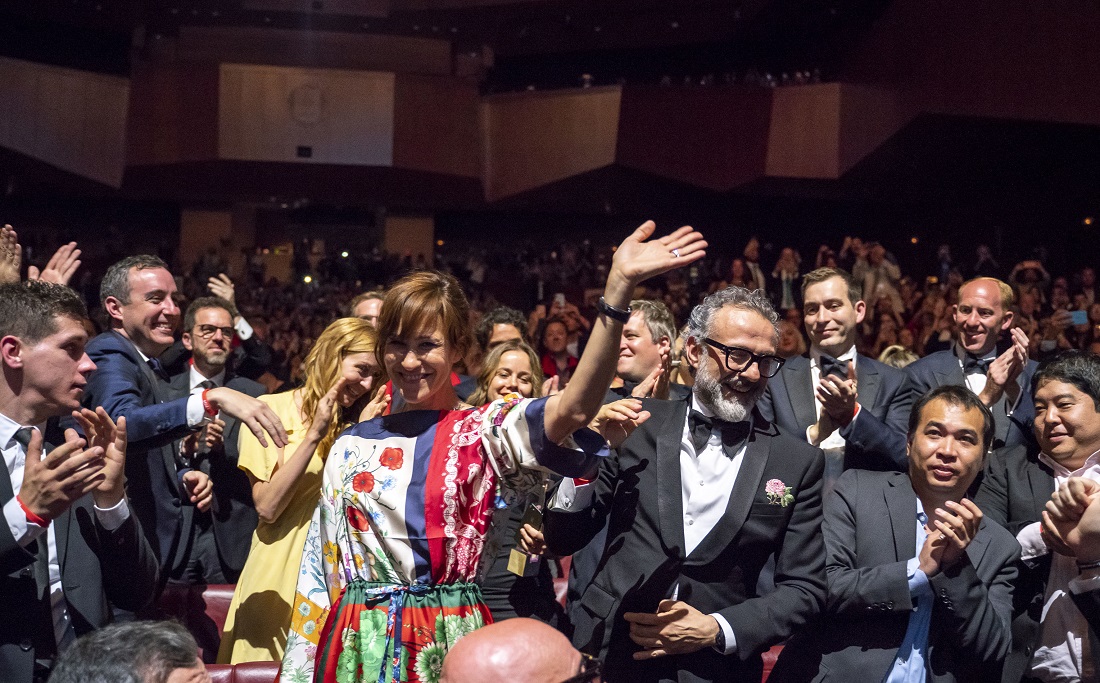 España ha vuelto a mostrar músculo y es el país con más restaurantes en el top 50 de la lista británica (un total de 7), aún con la "mala" noticia de la bajada del Asador Etxebarri (Atxondo) del #6 al #10, además de las de Tickets (Barcelona), que pasa del #25 al #32, y Arzak, del #30 al #31. Mugaritz ha mantenido posición, la #9.
Además, la gala ha desvelado los nombres de sus premios especiales. The Ferrari Trento Art of Hospitality Award ha sido para Geranium (Copenague, Dinamarca); The World's Best Patry Chef Award ha recaído en el francés Cedric Grolet, y The Sustainable Restaurant Award ha sido para Azurmendi (Larrabetzu), que no obstante ha bajado en la lista general cinco puestos, del 38 al 43. Al entrar en el número 17, Den (Tokio, Japón) ha recibido el Highest Climber Award.
Además, The 50 Best Restaurant ha dado a Dan Barber (Blue Hill at Stone Barns, Pocantico Hills, USA) el Chef's Choicer Award por votación de los chefs, y Clare Smyth y Gastón Acurio han recogido los premios Best Female Chef Award y Lifetime Achievement Award, respectivamente. Ambos nombres se desvelaron con anterioridad a la gala, como el premio One to Watch que el año pasado ganó Disfrutar, que también han recogido los responsables de SingleThread (Healdsburg, USA).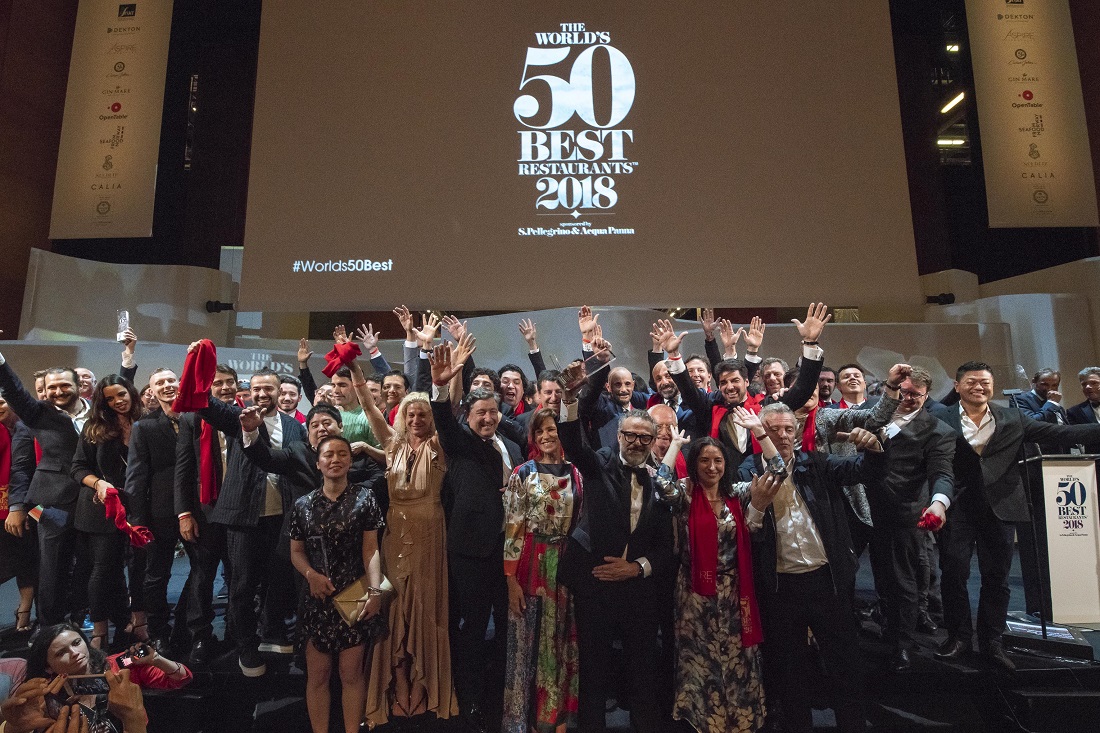 La lista completa de los 50 mejores restaurantes del mundo 2018:
No.1 Osteria Francescana, Modena, Italy
No.2 El Celler de Can Roca, Girona, Spain +1
No.3 Mirazur, Menton, France
No.4 Eleven Madison Park, New York, USA
No.5 Gaggan Bangkok, Thailand
No.6 Central, Lima, Peru
No.7 Maido, Lima, Peru
No.8 Arpège, Paris, France
No.9 Mugaritz, San Sebastian, Spain =
No.10 Asador Etxebarri, Atxondo, Spain -4
No.11 Quintonil, Mexico City, Mexico
No.12 Blue Hill at Stone Barns, Pocantico Hills, USA
No.13 Pujol, Mexico City, Mexico
No.14 Steirereck, Vienna, Austria
No.15 White Rabbit, Moscow, Russia
No.16 Piazza Duomo, Alba, Italy
No.17 Den, Tokyo, Japan
No.18 Disfrutar, Barcelona, Spain +37
No.19 Geranium, Copenhagen, Denmark
No.20 Attica, Melbourne, Australia
No.21 Alain Ducasse au Plaza Athénée, Paris, France
No.22 Narisawa, Tokyo, Japan
No.23 Le Calandre, Rubano, Italy
No.24 Ultraviolet by Paul Pairet, Shanghai, China
No.25 Cosme, New York, USA
No.26 Le Bernardin, New York, USA
No.27 Boragó, Santiago, Chile
No.28 Odette, Singapore
No.29 Alléno Paris au Pavillon Ledoyen, Paris, France
No.30 D.O.M., São Paulo, Brazil
No.31 Arzak, San Sebastian, Spain -1
No.32 Tickets, Barcelona, Spain -7
No.33 The Clove Club, London, UK
No.34 Alinea, Chicago, USA
No.35 Maaemo, Oslo, Norway
No.36 Reale, Castel di Sangro, Italy
No.37 Restaurant Tim Raue, Berlin, Germany
No.38 Lyle's, London, UK
No.39 Astrid y Gastón, Lima, Peru
No.40 Septime, Paris, France
No.41 Nihonryori Ryugin, Tokyo, Japan
No.42 The Ledbury, London, UK
No.43 Azurmendi, Larrabetzu, Spain -5
No.44 Mikla, Instambul, Turkey
No.45 Dinner by Heston Blumenthal London, UK
No.46 Saison San Francisco, USA
No.47 Schloss Schauenstein, Furstenau, Switzerland
No.48 Hisa Franko, Kobarid, Slovenia
No.49 Nahm, Bangkok, Thailand
No.50 The Test Kitchen, Cape Town, South Africa
…
No.51 De Librije Zwolle, Netherlands
No.52 L'Astrance Paris, France
No.53 Benu San Francisco, USA
No.54 Sühring Bangkok, Thailand
No.55 Don Julio Buenos Aires, Argentina
No.56 Amber Hong Kong, China
No.57 Nerua Bilbao, Spain
No.58 Brae Birregurra, Australia
No.59 Florilège Tokyo, Japan
No.60 Tegui Buenos Aires, Argentina
No.61 Burnt Ends Singapore
No.62 Momofuku Ko New York, USA
No.63 Hof Van Cleve Kruishoutem, Belgium
No.64 Sud777 Mexico City, Mexico
No.65 Frantzén Stockholm, Sweden
No.66 Vendôme Bergisch Gladbach, Germany
No.67 Fäviken Järpen, Sweden
No.68 Quique Dacosta Denia, Spain
No.69 Chef's Table At Brooklyn Fare New York, USA
No.70 Selfie Moscow, Russia
No.71 Relae Copenhagen, Denmark
No.72 Twins Garden Moscow, Russia
No.73 Aqua Wolfsburg, Germany
No.74 The Fat Duck Bray, UK
No.75 Belcanto Lisbon, Portugal
No.76 Martin Berasategui Lasarte-Oria, Spain
No.77 Elkano Getaria, Spain
No.78 Mingles Seoul, Korea
No.79 A Casa do Porco São Paulo, Brazil
No.80 Lung King Heen Hong Kong, China
No.81 Per Se New York, USA
No.82 Hedone London, UK
No.83 Estela New York, USA
No.84 St John London, UK
No.85 Le Coucou New York, USA
No.86 The French Laundry Yountville, USA
No.87 Maní São Paulo, Brazil
No.88 Nobelhart & Schmutzig Berlin, Germany
No.89 The Jane Antwerp, Belgium
No.90 Indian Accent New Delhi, India
No.91 SingleThread Healdsburg, USA
No.92 L'Effervescence Tokyo, Japan
No.93 8 1/2 Otto e Mezzo Bombana Hong Kong, China
No.94 Alo Toronto, Canada
No.95 Enigma Barcelona, Spain
No.96 Diverxo Madrid, Spain
No.97 Atelier Munich, Germany
No.98 108 Copenhagen, Denmark
No.99Leo Bogotá, Colombia
No.100 Lasai Rio de Janeiro, Brazil